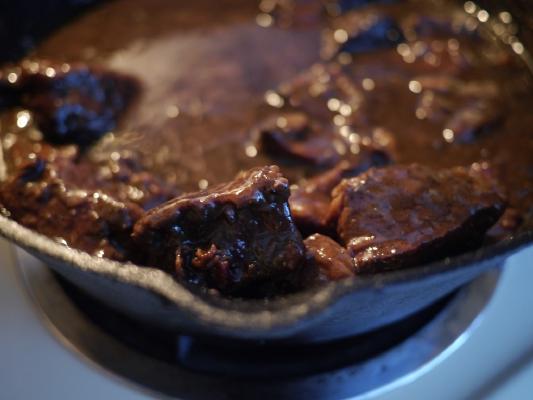 There's nothing quite like slow cooked meat.
Similar to Boeuf Bourguignon, veggies, meat, wine, broth, time.
Prep time: 10-20 minutes
Cooking time: 3 hours
Ingredients:
2 lbs Beef shortribs (preferably bone-in)
1/2 cup of flour
2 cups red wine
2 cups beef, chicken, or veggie stock
2 slices of bacon
4 cloves of garlic, diced
1 medium onion, diced
2 medium carrots, rough cut
1 stalk celery, rough cut
1 tsp salt
2 tsp pepper
1 tsp thyme (or 1 sprig fresh)
1 tsp rosemary (or 1 sprig fresh)
I've found shortribs at the store available a couple ways, one is bone in about 2″ long (my favorite cut), one is bone-in about 4″ long, and boneless strips, which you can just cut into 2″ sections. Bone in is preferred, the taste as they cook in the broth is just better. But, if boneless is all you can find, that'll work as well.
Directions
Pre-heat oven to 350
Cook bacon in a deep, heavy, oven-safe pot, like a dutch oven, until crispy
Remove bacon, leaving the grease in the pan
Add some olive oil to cover the bottom of the pan
Turn heat to high
Coat each piece of shortrib in flour
Put shortribs in pan in batches, quickly browning each side of shortribs, 1 minute or less per side
Remove browned shortribs to a plate
Turn heat down to medium
Add onions to pan, cook for a minute
Add carrots celery and garlic, cook for another minute
Add red wine, deglaze pan, bring to a boil
Add salt & pepper
Add shortribs back to pan
Add thyme & rosemary
And just because you've got it around, chop up the removed bacon, and toss that back in too
Add broth until shortribs are just covered with broth
Cover pot, put into oven
Leave in oven, covered for 2 hours
Reduce heat to 325, remove cover, continue cooking for 45 minutes
Remove pot from oven, gently stir once or twice, cover, let sit for 20 minutes
Serve it up! Good on it's own with a veggie side, over potatoes or polenta or diced cauliflower
2013-06-10 15:15:00 +0000 UTC