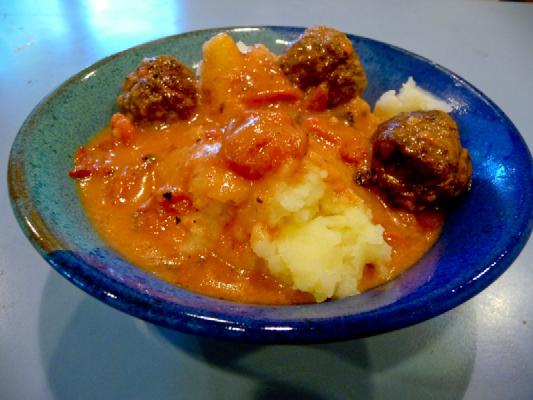 One of my Mom's staples, this is a version from my sister, Vicki. I wasn't crazy about the results, to be honest. I'm not a fan of runny sauces, even though one definition I found for slumgullion was "watery tomato broth". I'll be trying it again, but changing it up a bit, and adding some spices since for me this was pretty bland, except for the salt from the canned tomatoes. First thing I'll likely try is substituting sour cream or perhaps buttermilk for the milk. I also have an original version my Mom made, I'll be trying that soon as well.
Ingredients:
1 pound of Meatballs (recipe follows)
1 Tbsp Extra Virgin Olive Oil
1 Can tomato soup
8 ounces of milk (equal to the amount of tomato soup)
1 can of stewed tomatoes
1 Tbsp corn starch disolved in water to for thickener
Directions:
Put Olive Oil in a pan, add meatballs and brown.
In a saucepan, add tomato soup, milk, and tomatoes, bring to a simmer
Add cornstarch to tomato mixture until it thickens
If necessary, drain meatballs, and add to tomato mixture
Simmer for 5 minutes
Serve over mashed potatoes or noodles
Meatballs:
Ingredients:

1 Pound lean ground beef or beef/pork blend, or turkey
2 tsp garlic powder
2 tsp onion powder
1 tsp salt
1 tsp black pepper
1 tsp oregano
Directions:
Add all ingredients to a large bowl, mix with your hands until blended, but don't overwork the mea
Pull off about 3 Tbsp worth of meat, and roll between the palms of both hands to form a ball
Set on a plate, and repeat until all meat has been turned into perfect spheres!


]]>
2010-06-16 19:44:28 +0000 UTC