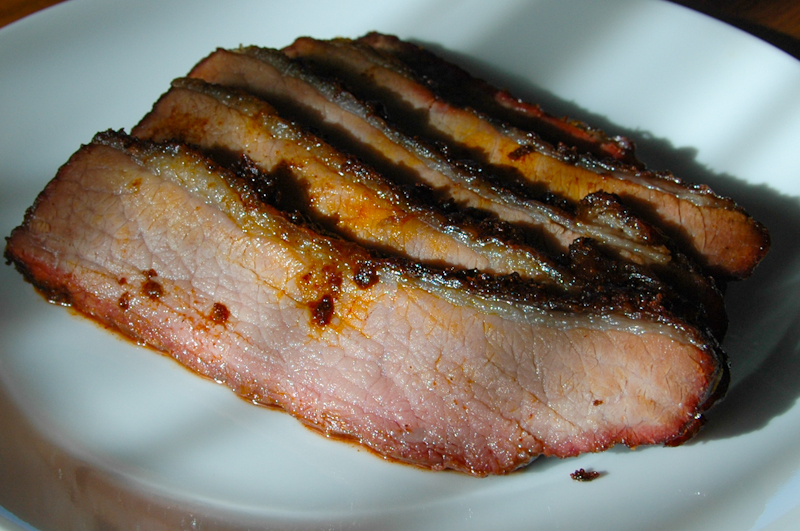 There are tons of recipes for great brisket, so I grabbed a few of the ones I liked best, and tweaked them to suit the brisket, equipment, and time I had to make it. It turned out really well, worth sharing…
Ingredients:
Beef Brisket (I used a very small 1.5 lb brisket)
Olive oil (enough to cover the brisket)
Rub (adjust amount based on size of brisket):

2 Tablespoons Paprika
1 Tablespoon Brown sugar
1 Tablespoon Garlic powder
1 Teaspoon Cayenne pepper
1 Teaspoon Mustard powder

Mop (again, adjust amount to the size of your brisket):

1 Tablespoon white wine vinegar
1 Tablespoon soy sauce
2 Teaspoons brown sugar
Directions:
Rinse off brisket under running water, pat dry
Rub all sides of brisket with olive oil
Cover brisket with rub, press into brisket with your hands
Wrap brisket in plastic wrap, put in refrigerator for 24 hours
Fire up your smoker, I used my Weber grill, with a smoker box
Get the temperature to between 225-275
Put brisket on smoker. Mine provides indirect heat, so I put the fat side up
Every 30-60 minutes, open the smoker, put mop liquid on the brisket
Cook until done (read the following on "doneness")
A guideline for cooking at 250 degres is around 1-1/2 hours per pound, but I left mine on for 4 hours, since it was small, and I wanted the connective tissue to have time to break down. The result was moist and really tasty. I just did one round of wood chips, which provided smoke for the first hour, then left it on low heat for the remaining time. Also feel free to use a meat thermometer, the connective tissue starts breaking down at around 180 degrees, so you'll want to keep the meat at that temperature for a while.
2011-07-29 17:31:00 +0000 UTC