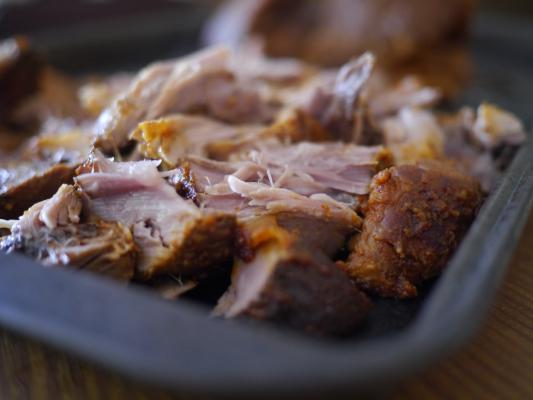 I was a little dubious about this recipe, since I've been making pulled pork by coating with KayDub Rub overnight and then smoking the pork shoulder for 12 hours until it falls off the bone. This recipe didn't have a dry rub step at all, and the pork shoulder both had the fat removed, which is what tenderizes it when you smoke it, and sits in broth for 5 hours to cook.
I was delighted by the results. The pork was flavorful, tender, and far leaner than pork shoulder smoked on a bbq. I added a few things, garlic, which I'm sure was just an oversight in the original recipe, and some onion and mustard powder as well.
My other change is that I didn't use the leftover broth when serving the shredded pork, which after 4-1/2 hours was very thick and didn't separate well for me. I just shredded the pork, and there was more than enough flavor from the pork itself. Of course, you can always add some of my own BBQ sauce, which also goes well.
Original recipe from EatingWell.com
Ingredients
1 tablespoon extra-virgin olive oil
2 medium yellow onions, diced
4 garlic cloves, chopped
1 tablespoons chili powder
1 tablespoon ground cumin
2 teaspoons paprika
2 tablespoons cayenne pepper
1 tablespoon garlic powder
1 tablespoon onion powder
1 tablespoon dried mustard
12 ounces beer, I prefer lager (1 1/2 cups)
3/4 cup ketchup
3/4 cup cider vinegar
1/2 cup whole-grain mustard (or Dijon)
2 tablespoons tomato paste
1 canned chipotle pepper in adobo sauce, minced, plus 1 tablespoon adobo sauce
1 5-pound lean (bone-in if you can find it) Boston butt (aka Pork Shoulder)
Directions
Preheat oven to 300°F. Heat oil in a large Dutch oven over medium-low heat. Add onions and cook, stirring occasionally, until lightly browned and very soft, about 20 minutes.
Increase heat to high; add dry ingredients (chili powder, cumin, paprika, cayenne, etc) stir, until fragrant, 30 seconds to 1 minute. Add beer, ketchup, vinegar, whole-grain mustard, tomato paste, chipotle pepper and adobo sauce; bring to a boil. Reduce heat to medium-low and simmer, uncovered, stirring occasionally, until the sauce is slightly thickened, 10 minutes. Meanwhile, trim all visible fat from the pork.
Remove the pan from the heat and add the pork, spooning sauce over it. Cover the pan, transfer to the oven and bake for 1 1/2 hours. Turn the pork over, cover, and bake for 1 1/2 hours more. Uncover and bake until a fork inserted into the meat turns easily, 1 to 2 hours more.
Transfer the pork to a large bowl and cover with foil.
Optionally: Pour the sauce into a large measuring cup or glass bowl and refrigerate until the fat and sauce begin to separate. This could take a while if you have a lot of sauce. Skim off the fat. Return the sauce to the pan and heat over medium-high until hot, about 4 minutes. This isn't strictly required, but it will make the sauce "leaner".
Remove the bone and any remaining pieces of fat from the meat. The bone should easily slip away from the tender meat. Pull the pork apart into long shreds using two forks. Add the hot sauce to the meat; stir to combine. Serve hot.
I like making pulled pork sandwiches by toasting a bun, and adding jalapenos, reduce sauce, and shredded cheese
The pulled pork stores and freezes well. You can make this a day in advance, separate from the sauce, and shred it the next day.
2010-01-13 03:00:00 +0000 UTC
[meat pork]