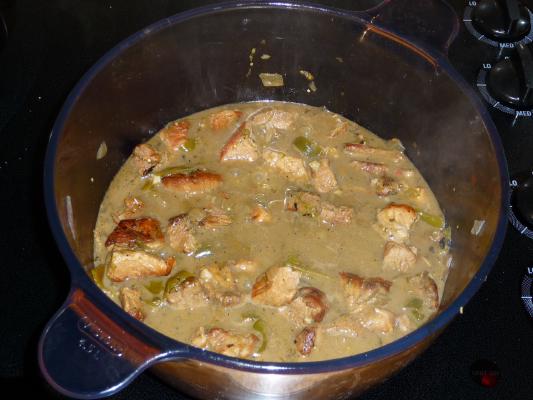 Ingredients:
2 lbs pork butt/loin, cut into 1 in cubes
12 Tomatillos, outer skin removed
4 Jalapeno peppers, seeded and chopped
4 Serrano peppers, seeded and chopped
2 Anaheim peppers, seeded and chopped
1 Habanero pepper, seeded and chopped
2 medium yellow onions, chopped
4-6 cloves of garlic, peeled and chopped
1Tbsp Ground Cumin
1Tbsp Mexican Oregano
1Tbsp salt
1Tbsp pepper
1/4 cup white wine vinegar
1/2 cup white wine
1 cup chicken stock
2 Tbsp Extra Virgin Olive Oil (EVOO)
Directions: Peel papery skin from Tomatillos. Put tomatillos and Anaheim peppers over an open flame, get skins blackened. Be careful with the tomatillos, they'll take less time than the Anaheims, and will burst and release their juices if they get too hot.
Take Tomatillos and Anaheim peppers. Put them in a container, and cover with plastic wrap, let sit for 20 minutes.
This would be a great time to de-seed and chop all the other peppers, and cut up and brown the pork! After the Anaheim peppers have sweated for 20 minutes, remove charred skins, deseed and chop.
Heat a large pot or dutch oven, put a couple turns of Extra Virgin Olive Oil (EVOO) in it, and add the pork. Add enough to cover the bottom, brown on both sides, remove and set aside. Repeat until all the pork has been browned.
Add a little more EVOO, and the onions and garlic to pot, cook until onions are just translucent, but don't brown. Add white wine, and white wine vinegar, and deglaze pan.
Add peppers, tomatillos, and cook for 5-10 minutes on medium heat.
Add back browned pork, chicken broth and spices. Turn heat to low, cook for 1 hour covered, then 30 minutes to 2 hours uncovered, stirring occasionally until pork is easily broken apart with a fork.
Serving suggestions:
You can use Chile Verde in my Chile Verde Enchiladas, or serve in a tortilla with any/all of avocado, shredded jack cheese, salsa, and sour cream, serve along with rice and beans and tortillas on the side.
2009-09-13 17:04:00 +0000 UTC