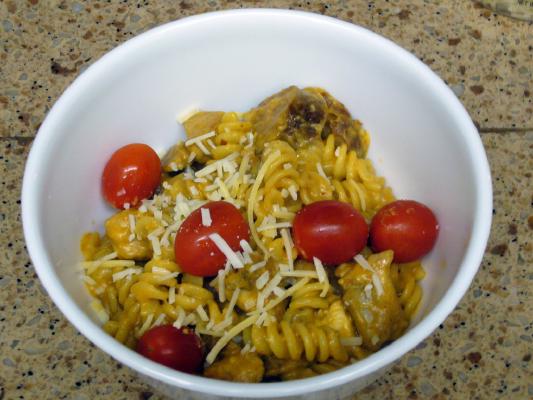 A creamy, spicy chipotle in adobo sauce accompanies pasta, chicken and hot sausage for delicious meal. Paired with a crisp cool salad, it makes a wonderfully simple meal.
Note that using buttermilk makes for a very creamy and rich pasta sauce, but adds very little fat or calories. It's an exceptionally good cream/milk/half-and-half substitute. Sour cream is also a good substitute.
Difficulty: Easy
Prep Time: 10 minutes
Cook time: 15 minutes
Servings: 4
Recipe:

Ingredients:
1 de-boned, de-skinned chicken thigh
1 de-boned, de-skinned chicken breast
3 hot sausages of your choice (Italian is a great choice)
A few handfulls of cherry tomatoes
1/2 cup of shredded or grated Parmesan cheese
1 cup Rotini or Fusilli corkscrew pasta
1 cup (1 pint) buttermilk
1 cup Adobo Sauce (recipe follows)
Adobo Sauce:
Ingredients:
1 cup BBQ sauce (recipe follows)
1/2 cup canola oil
1/2 cup lemon juice
3 Tbsp Dijon mustard
1-2 chipotle peppers in adobo (2 Tbsp)
1 Tbsp red chili flakes
1 tsp cayenne pepper
1 tsp fresh ground pepper
BBQ Sauce:

Ingredients:
3/4 cup ketchup (remember, no high fructose corn syrup!)
1/2 cup Worcestershire sauce
1 Tbsp Brown sugar
1 Tbsp onion powder
1 Tbsp garlic powder
1 Tbsp dry mustard
1 tsp salt
2 Tbsp red wine vinegar
1 Tbsp habanero hot sauce
1/2 cup IPA or Pale Ale or Brown Ale
Directions:
BBQ Sauce:

Combine ingredients in a medium sauce pot, heat just below a simmer, stirring to combine ingredients.
Adobo Sauce:

Combine ingredients in a blender, mix thoroughly.
Chicken and Pasta:
Fill a large pot with water, bring to a boil over high heat
Add pasta to boiling water, cook 7-8 minutes
If Sausage is uncooked…
Fill a pan 1/4 of the way with water
Add sausage, bring to a boil
Turn sausages after a few minutes
When cooked (about 4-5 minutes total), drain water
Using cooked sausages
Add olive oil to pan, brown sausages on both sides, remove and set aside
Cut chicken into bite-sized pieces
Add a little more olive oil to the pan
Brown chicken on both sides
Cut sausages into bite-sized pieces on the bias (at an angle)
Add sausages to chicken
Stir in Adobo sauce
Stir in cooked pasta
Stir in most of Parmesan cheese, reserving a few tablespoons to garnish with
Serve in bowls, or on a plate, topped with several cherry tomatoes, and a little Parmesan cheese
Enjoy!


]]>
2010-12-05 21:41:55 +0000 UTC