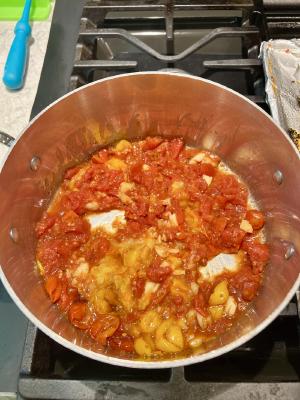 Ingredients:
One 32-ounce cans whole peeled tomatoes
3 cloves garlic, smashed
2 sprigs fresh oregano
2 sprigs fresh rosemary
Two 2-inch Pecorino-Romano rinds, cut into 2-4 pieces
1 cup grated Pecorino-Romano, for serving
1/4 to 1/3 cup extra-virgin olive oil, plus additional for drizzling
1 teaspoon red pepper flakes
Kosher salt and freshly ground black pepper
8 ounces dried pasta, such as spaghetti or bucatini
4 tablespoons unsalted butter
Directions:
Preheat oven to 425 degrees F.
Strain liquid from tomatoes, and cut open each tomato to drain, and reserve liquid
Assemble the tomatoes on a sheet trays, sliced side up and spread into an even layer.
Add 3 smashed garlic cloves, 2 sprigs oregano, 2 sprigs rosemary and Pecorino rinds
Drizzle 1/4 cup of olive oil over tomatoes
Sprinkle the red pepper flakes over tray and season with salt and pepper.
Roast, rotating sheet tray after about 15 minutes, until the tomatoes are just beginning to char on the bottom, about 25 minutes.
Remove the oregano, rosemary and pecorino rinds
Add the tomatoes to a large saucepan and crush with a potato masher until you reach desired consistency. Add some reserved liquid and some pasta water to get the consistency you want. Bring to a simmer and season with salt and pepper, and drizzle with more olive oil.
Cook the pasta 2 minutes less than indicated on the box instructions. Transfer cooked pasta to sauce in saucepan
Add 1 tablespoon butter and 1/4 cup of pecorino, toss until incorporated, and repeat 2 more times, until 2 minutes have elapsed
Finish with remaining butter and grated Pecorino.
2023-03-21 12:26:47 -0700 PDT