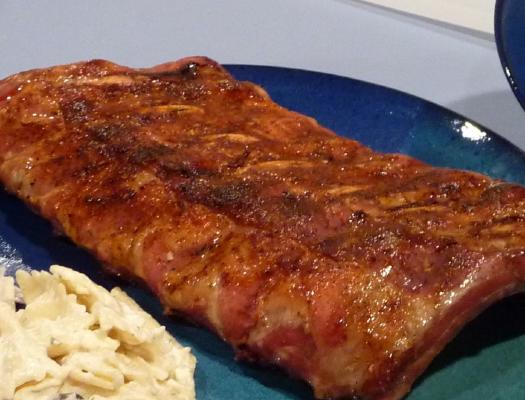 Kaydubs BBQ'd Bones
recipe by Ken Wallich derived from a recipe from Guy Fieri
Prep Time: 10 min
Inactive Prep Time: 45 min
Cook Time: 4 hr 0 min
Yield 4 servings
Ingredients
Directions
Place ribs onto aluminum foil. Brush the mustard onto both sides of the ribs. Cover the ribs with KayDub rub. Let sit at room temperature for 45 minutes.
Preheat oven to 325 degrees F.
Wrap the ribs, meat side down, in aluminum foil then place onto a baking sheet. Bake for 10 minutes.
Reduce the heat to 225 degrees F and cook for another 1 1/2 hours.
Open the foil and cook for 1 hour.
Remove ribs from oven, and discard the foil. Cut into 2 to 4 rib, about 4″ wide portions. Place, bone side down back on baking sheet. continue to cook for 1 1/2 hours, basting with KayDubs BBQ baste occasionally.
When ribs are fork tender, place under broiler for 10 minutes.
Powered by Qumana
2009-06-21 09:14:12 +0000 UTC