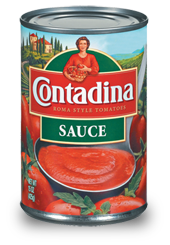 OK, not quite instant, but if you want some marinara sauce for a quick meal, and you don't have time to peel and cut tomatoes, cut up veggies, and reduce the sauce all day or buy overpriced pre-made marinara sauce, this one's for you! You can get really good processed tomato ingredients in a can these days, just read the labels, and don't get anything with added sugar (especially corn-based sweeteners), and if you can find it, without added salt. The closer to "just tomatoes" in the can, the better. When you find good brands of tomato sauces/pastes on sale, buy a bunch, and put 'em in the pantry. Great go-to food, and keeps for a year or more.
Prep time: 5 minutes
Cook time: 30-60 minutes
Serves: 2 (if you want a LOT of sauce) or 3-4 for normal folks
Ingredients:
2 15 ounce cans tomato sauce
1 can (or 1 cup) chicken or vegetable broth
1 6 ounce can tomato paste
1 tablespoon dried basil
1 tablespoon dried oregano
1 tablespoon thyme
1 tablespoon ground garlic
2 teaspoons powdered onion
2 tablespoons minced onion (or 1 tablespoon dried onion flakes)
2-6 cloves of garlic, roughly chopped, depending how much you like garlic
Salt and pepper to taste
Cayenne pepper to taste
1 tablespoon olive or canola oil
Directions:
Put oil over medium-high heat in a pot large enough to hold all ingredients
Add garlic, let warm up/brown for just a minute or so
Add all the other ingredients, put heat on a low simmer for 30-60 minutes, or until sauce reduces to your favorite consistency.
That's it! Put this over your favorite base, pasta, or one of our favorite low-carb finds, NoOodles. Feel free to add other things to the sauce: mushrooms, olives, etc. I also like to add 1/2 pound of browned ground beef or turkey.
2011-11-06 20:27:00 +0000 UTC