Ingredients:
12 Tomatillos, outer skin peeled (or canned, if you prefer)
4 Jalapeno peppers, deseeded and chopped
4 Serrano peppers, deseeded and chopped
1 Habanero pepper, deseeded and chopped (optional)
2 cloves of garlic, whole
1 Medium yellow onion, chopped
1/2 bunch cilantro, chopped (optional)
2 medium limes
1/8 cup white wine vinegar
1/2 cup Chicken broth
Directions:
Roast Tomatillos (see my Chile Verde recipe for pictures and instructions), put in a plastic wrap covered bowl, and set aside for 20 minutes.
Put peppers, onions and tomatillos in a large pan with the vinegar, just cover with water.
Bring to a boil, reduce to simmer for about 10 minutes. Drain, transfer vegetables to a blender, add chicken broth. Puree until well mixed, add cilantro and lemon juice if desired.
That's it! Use Enchilada Verde Sauce on Chile Verde Enchiladas or any other chicken/pork combo that needs a verde sauce.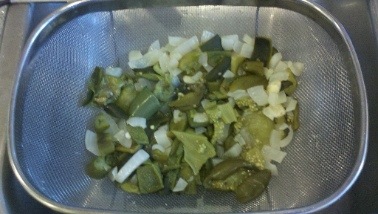 2009-09-14 12:21:43 +0000 UTC