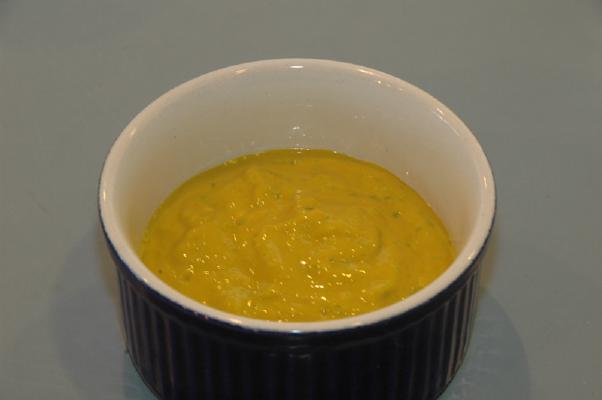 A childhood favorite veggie coater, I use yogurt to make it much more healthy, and a little more sophisticated.
+++
We always had 1000 island dressing when I was a kid. It was tasty, and made those mandatory dinner veggies edible. Then, I got older, and 1000 island got put in the kids food category, like hot dogs and spaghettios. I move on to Ranch, Blue Cheese, healthier vinegar-based dressings.
But sometimes I like to revisit the foods of my youth, break it down, and reinvent it. In the case of thousand island dressing, we're talking mayonnaise, catsup, and pickle relish. That's a lot of fat and sugar, which is why we liked it so much as kids!
I saw a recipe by Alton Brown that replaced the mayonnaise with yogurt, and that gave me the idea for this!
Ingredients:

1 Cup (16 oz) plain greek yogurt
2 Tbsp Tomato Sauce (or organic catsup, just no high fructose corn syrup, 'kay?)
2 Tbsp Extra Virgin Olive Oil
2 tsp dry mustard
2 tsp onion powder
2 tsp sugar
1 tsp salt
1/2 tsp ground black pepper
1/2 tsp paprika
2 tsp lemon juice
1-1/2 Tbsp sweet pickle relish (again, no HFCS, 'kay?)
1 finely chopped Jalapeno (optional)
Directions:
Put all ingredients in a large bowl
Stir until ingredients are well blended
Put in refrigerator for 1 hour prior to serving


]]>
2010-04-26 20:26:03 +0000 UTC