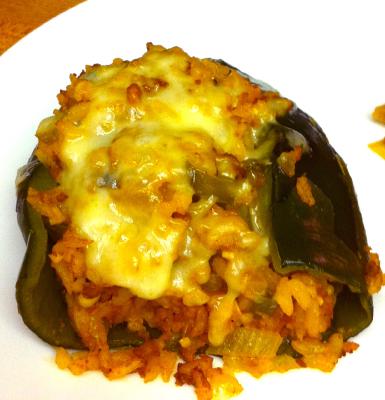 A healthier alternative to Chili Rellenos, peppers are baked rather than battered and fried.
Ingredients:
1 tablespoon oil
1/2 pound Mexican-style chorizo
1 bell pepper, diced
1 jalapeno, diced (use 2, if you like it hot)
1 Serrano pepper, diced (optional, if you like it hot)
1 red onion, diced
2 tablespoons garlic, minced
1 cup short-grain rice
1 cup low-sodium chicken stock
1/2 cup white wine
1/2 cup water
4 large, fresh poblano chiles
1/2 cup (pepper) Jack cheese, shredded
Directions:
In a medium saucepan, heat oil and chorizo, cook for 3 minutes
Add peppers, jalapeno, onions and garlic. Cook until translucent
Add rice and cook until all the grains of the rice are coated with oil
Add all liquids and stir over high heat for 3 minutes, cover and reduce heat to low. Check rice for doneness after 20 minutes
Preheat oven to 400 degrees F
Place poblano chiles on baking sheet and bake for 15 minutes
Remove from oven and let cool
Once cool, cut top 1/4 of chile off, and remove skins, ribs and seeds. I prefer to cut open one side so you can slightly overstuff them
When rice is finished cooking, fluff with fork
Stuff chiles with the rice mixture,
Place all the chiles on baking sheet and place into oven for 10 minutes.
Remove peppers from oven, sprinkle cheese over the top
Broil to melt and brown the cheese, be careful not to burn them!


]]>
2010-11-27 11:12:52 +0000 UTC