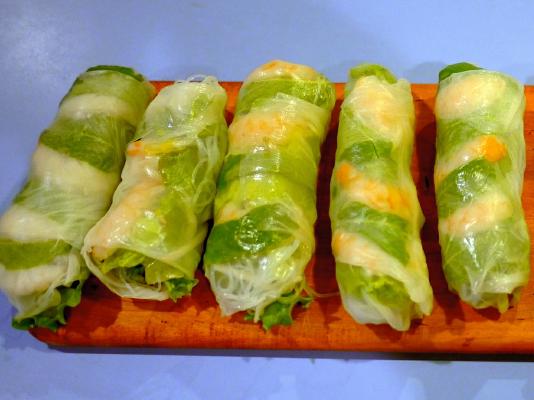 Rather than giving measurement estimates, since it depends on how many rolls you want to make, here are some guidelines. You'll use about one spring roll wrapper (or two, if you're nervous about them ripping), two palm sized pieces of lettuce, 4 mint leaves, 2 basil leaves, 3-4 cilantro leaves, 1/4 ounce of bean sprouts, 2 Tablespoons of rice noodles, and 4 shrimp halves per roll.
Ingredients:
Spring roll wrappers
Rice noodles
4 cooked shrimp halves per roll
Mint leaves
Basil leaves
Cilantro
Lettuce
Bean sprouts
Directions:
You might want to find any of the really good videos or photo essays on how to roll these. It's the same as rolling a burrito.
You first take the wrapper, soak it in water until moist, set on a towel, fill, and roll.
On the middle lower 1/3…

alternate shrimp halves (pink side down) and mint, 4 pices each next to each other.
a piece of lettuce
basil
Cilantro
noodles
bean sprouts
a piece of lettuce

Roll like a burrito
Repeat until you run out of ingredients, or have as many rolls as you want
One trick I find works well: soak the wrapper, set on a towel, pat both sides, put on a silpat, and roll it there. That removes enough moisture, but makes it easy to roll with the non-stick silpat.
2014-03-09 01:53:00 +0000 UTC