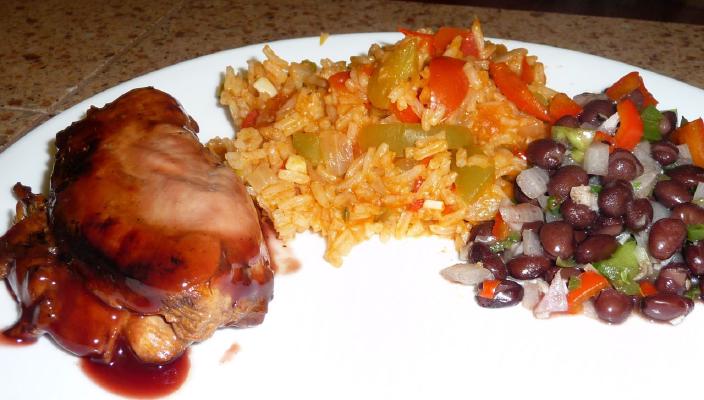 Ingredients:
2 Full chicken breasts, skin on
Marinade:
1/2 cup red wine
1/4 cup red wine vinegar
1/4 cup white vinegar
1/4 cup soy sauce
1/4 cup orange juice
2 Tbsp brown sugar
1 Jalapeno pepper, seeded and diced
1 Serrano pepper, seeded and diced
1 Thai chili pepper, seeded and diced
1 Habanero pepper, , seeded and diced
Sangria glaze:
3/4 cup red wine
1/4 cup apple juice
1/4 cup orange juice
1/4 cup sherry
2 Tbsp brown sugar
2 Tbsp honey
1/2 tsp – 1tsp Dave's Insanity Hot Sauce
1 Tbsp cornstarch
3 Tbsp cold water
Directions
Cut breasts in half, put marinade ingredients in a re-sealable plastic bag, add breasts. Put in refrigerator for 4-6 hours.
Glaze: In a small sauce pot, add all ingredients except cornstarch and water. Bring to a simmer, and reduce by 1/3. Whisk cornstarch and cold water together in a small bowl, whisk into the sauce pot. Turn heat to low, simmer until reduced by 1/2 or until glaze is the thickness you desire.
Preheat oven to 350. In a medium sized saucepan or cast iron skillet over high heat, put 2 turns of Extra Virgin Olive oil, add chicken and cook for about 5 minutes per side. Put pan, with chicken, in the oven for 15-20 minutes, or until chicken has reached 160-165 degrees.
Remove chicken from pan, remove skin from chicken, coat on all sides with glaze, and let rest for 5 minutes.
Goes well with Spicy Spanish Rice and Black Beans & friends
2009-12-01 00:44:16 +0000 UTC