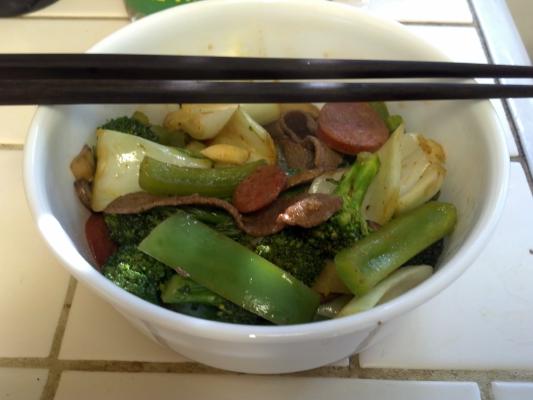 Hard to tie down to any set of ingredients, you can make this with lots of different toss-ins. Generally, I like crispy veggies (in the picture are baby bok choy, celery, broccoli). Some onions, garlic, optionally meat if you want. It's a great thing to throw together with leftover veggies or meat in smaller quantities than you'd use for a dish of them.
Ingredients (as pictured, but make it up!):
Broccoli
Bok Choy
Celery
Onion
Garlic cloves (whole or sliced)
Sausage
Thinly sliced meat (beef, pork, chicken)
2-3 Tbsp Oil (Canola or Olive or Peanut work well)
3 Tbsp Soy Sauce
1 Tbsp Rice Wine Vinegar
A handfull of whole chili peppers (optional)
1 Tbsp chili powder (optiona)
Salt and Pepper to taste
Directions:
Chop all veggies to bite-sized pieces
If using meat, thinly slice and cut into bite-sized pieces
Put oil in the bottom of a wok or deep frying pan over medium to high heat until oil is hot
If using meat, add to oil and cook for a minute until partially cooked, remove meat and place aside
Add veggies, stir in oil until warmed but still with a bit of crunch. Time will depend on the veggies you're using
Add soy, rice wine vinegar, chili powder, salt, pepper, and optional reserved meat
Continue to stir for another minute
Serve on a platter, or on indivdual plates or bowls. Optionally over rice, if you'd like.
2011-12-12 03:37:00 +0000 UTC