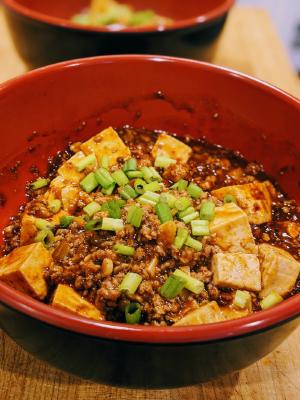 Original recipe from The Woks of Life
You'll find a couple other recipes for Mapo Tofu here, I really like this version, although I had to modify it to add a smaller amount of hot ingredients at the end, since I'm the only one who eats spicy food.
Ingredients:
1/4 cup oil
2 tablespoons chili oil
1 fresh Thai chili pepper, sliced
3 dried red chilies, chopped
1 Tablespoon ground Sichuan peppercorns + some for finishing
3 Tablespoons ginger (grated)
3 Tablespoons garlic (grated)
8 ounces ground pork
2 Tablespoons spicy bean sauce, divided in half
2/3 cup chicken broth (or water)
1 package (16 ounces) tofu (cut into 1 inch cubes). Most recipes call for silken, but that always breaks up for me, so I use firm
1/4 cup water mixed with 1 1/2 teaspoons cornstarch
1/4 teaspoon sesame oil
1 scallion (finely chopped)
Directions:
For the spicy incredients, in a small saucepan on low to medium heat, add 2 Tablespoons water or chicken broth, 2 Tablespoons of chili oil, the Thai and dried red chilies, and 1 Tablespoon of spicy bean sauce. Stir, until warm, then turn to low.
Heat the oil in your wok over medium heat. Add the ginger. After 30 seconds, add the garlic. Fry for another 30 seconds, move to the side of the wok so they don't burn, and then turn up the heat to high and add the ground pork. Break up the meat and fry it until it's cooked through. Add your ground Sichuan peppercorns and stir for about 15-30 seconds.
Add 1 Tablespoon spicy bean sauce to the mixture and stir it in well. Add the chicken broth to the wok and stir. Let this simmer for a minute.
Add the cornstarch mixture to your sauce and stir. Let it bubble away until the sauce starts to thicken. (If it gets too thick, splash in a little more water or chicken stock.
Add the tofu. Use your spatula to gently toss the tofu in the sauce. Let everything cook for 3-5 minutes. Add the 1/4 tsp sesame oil along with the scallions and stir until the scallions are just wilted.
Serve in two bowls, stirring in the spicy ingredients in one bowl.
Add a last sprinkle of Sichuan peppercorn powder as a garnish if desired.
2023-03-23 08:57:05 -0700 PDT