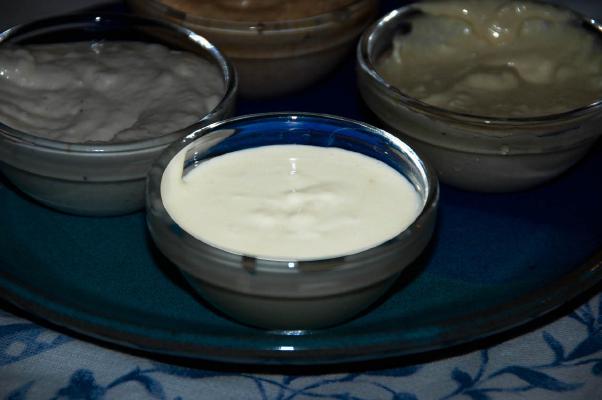 Difficulty: Easy
Prep time: 2 minutes
This is not strictly an Aioli, since aioli is olive oil and garlic, often with egg yolk added, whipped together. This is olive oil and egg white. Why? Well, I whipped the olive oil and egg yolk, and got a non-emulsified runny mess, so I had an egg white, and decided to experiment. It was actually a yummie dip, so I'm keeping it!
Ingredients
1 Egg white
2 Oz olive oil
2 tsp dry yellow mustard
2 tsp salt
1 tsp lemon juice
lemon zest from 1/2 lemon
Directions
Combine egg while and olive oil in a blender or food processor, blend until thick
Add other ingredients, blend for a few seconds until well blended
Put in a small bowl, and refrigerate for 30 minutes to thicken
Enjoy!
2010-01-06 19:59:11 +0000 UTC