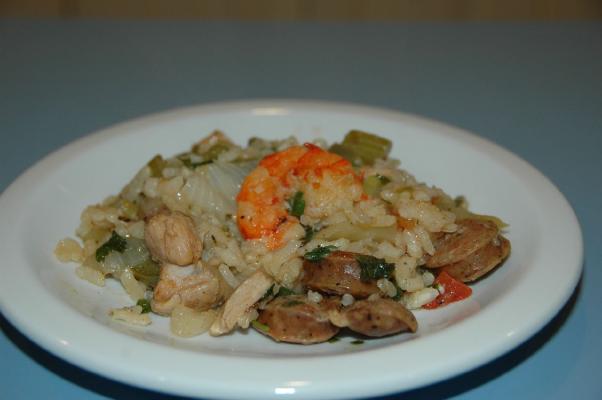 Extra virgin olive oil
1/2 pound medium shrimp, peeled and deveined
1/2 pound of chicken, cut into 1 inch pieces
1/2 pounds andouille sausage, sliced
1 large onion chopped
1/2 cup chopped celery
1 bell pepper, chopped
2 Tbsp (4 medium cloves) minced garlic
3 bay leaves
1 cup chopped tomatoes
1 cup chopped green onions
1/2 cup chopped parsley
4 cups water
1-1/2 cups rice
4 Tbsp Kaydub's Cajun blend
Salt and pepper
Directions
In a large deep pan (or a paella pan), heat 2 turns of olive oil over medium high heat
Coat shrimp with Kaydub's Cajun blend and saute until almost cooked through, about 4 minutes.
Remove shrimp and set aside.
Coat chicken pieces with Kaydub's Cajun blend. Add another turn of olive oil to Pan
Add chicken pieces and saute until browned on both sides, around 5 minutes
Remove chicken and set aside.
Add sausage and cook until browned.
Add onion, celery, bell pepper, garlic, bay leaves, 1/2 Tablespoon of Kaydub's Cajun blend, and cook until vegetables are wilted, about 6 minutes.
Add tomatoes and water and return chicken pieces to pan
Season with salt and pepper and simmer, covered, for 20 minutes.
Add rice to pot, stir well and return to a boil.
Reduce heat to low, cover pot, and cook for 15 minutes.
Add shrimp, green onions and parsley to pan, stir in, and continue to cook, covered, for another 10 minutes.
Remove from heat and let sit, covered, 10 minutes before serving.
2009-10-01 20:16:42 +0000 UTC