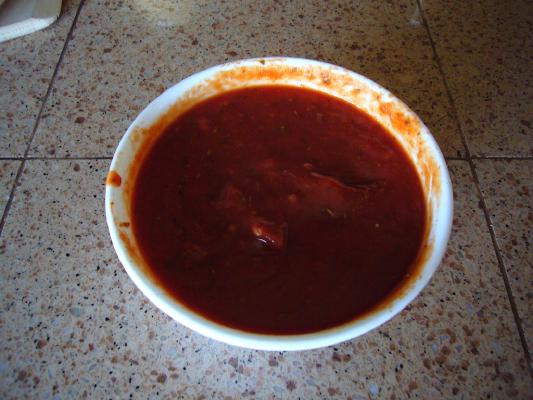 <![CDATA[
A refinement of my BBQ sauce experiments. You can make hotter by adding more Dave's Insanity, if you dare!
The result is a rich tomato flavored sauce, slightly sweet and smokey with a little bite.
Ingredients:

1 Cup Catsup (remember, no high fructose corn syrup allowed!)
1/2 Cup Worcestershire sauce
1/2 Cup Soy sauce
6 Oz India Pale Ale (or other beer of your choice, I recommend an ale)
1/4 cup red wine vinegar
1/4 cup white wine vinegar
1/4 cup rice wine vinegar
1/4 cup honey
2 Tbsp brown sugar
1 Tbsp cayenne pepper
2 tsp dry mustard
2 tsp spicy paprika
2 tsp Dave's Insanity (WARNING: Very Hot, don't use unless you know what you're doing!)
1 tsp salt
Directions:
Put all ingredients in a medium sauce pot.
Warm over low heat. Don't allow to boil, or the sauce will get bitter.
Allow to warm for 20 minutes, stirring occasionally. This is so all the solids dissolve into the sauce.
If sauce is the consistency you want, use/bottle now, if you want it thicker, you can continue to warm it until it reduces more. To make it thinner, add more India Pale Ale.

]]>
2010-04-29 19:18:18 +0000 UTC