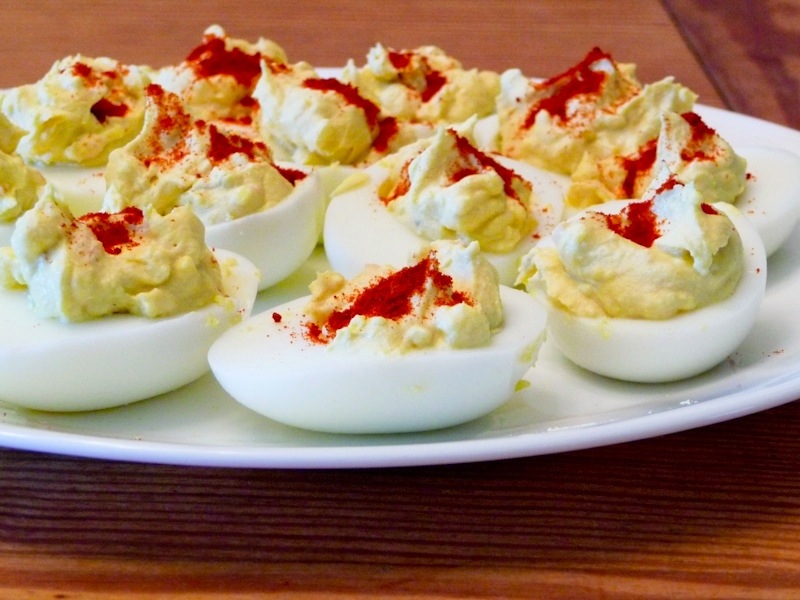 One of my favorite comfort foods, although I usually only make them when company is coming, since eating a dozen eggs in a sitting is probably not the best plan for a healthy lifestyle.
Ingredients:
1 Dozen eggs
4 Tbsp mayonnaise
3 Tbsp Dijon mustard
1 Habanero pepper, very finely chopped
1 tsp Dave's Insanity hot sauce
1 tsp black pepper
2 tsp spicy paprika
Directions:
Hard boil eggs (boil for 10-12 minutes), and let cool
Peel eggs, cut in half, set halves on plate, put yolks in a large bowl
Add mayonnaise, mustard, chopped habanero, hot sauce, salt and pepper to yolks
Using a fork, stir until smooth. If filling is dry, add a little more mayonnaise and mustard until you get the consistency you want. It should be thick enough to hold its shape, but moist
Fill the egg half with the filling. Ideally, you'd use a pastry bag, but you can just use two spoons as well, it just won't look as smooth
Another method which works well, instead of a bowl, add all ingredients to a resealable plastic bag, press and shake the bag to mix all the ingredents well, then cut off one corner, and use like you would a pastry bag to fill the eggs.
Lightly sprinkle a little spicy paprika on the finished eggs
For a cute garnish, slice black olives in half long-ways, then slice into wedges. Use the wedges to make little "horns" for the eggs, and add capers for eyes. Or make the horns from jalapenos or habaneros.


]]>
2010-06-08 10:29:00 +0000 UTC