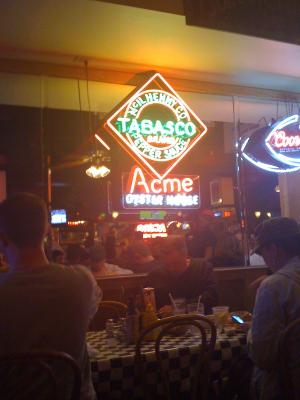 Summary:
Cusine – Seafood, other southern cusine
Ambiance – Casual
Location – French Quarter, New Orleans
Rating – Highly recommended
My first stop after checking into the hotel on my first trip to New Orleans, had heard good things about Acme, and decided it'd be the perfect first stop. Headed down about 7, there was a line outside of perhaps 30 people, wow, thought I was out early, and it's Thursday night! The wait was about 20 minutes, not bad at all. First on the menu, oysters. Got half a dozen each of the raw and baked oysters. The raw oysters were fresh and quite tasty, and the baked oysters had a wonderful cheese/garlic sauce, and were perfectly baked. Next, ordered the Jambalaya. I've had lots of Jambalaya in my day, but I'm a California boy, and this was my first trip to the south. The plate was just Jambalaya, no sides, which was just fine. Rice was moist, not at all overcooked, vegetables still had a little crunch, and seafood and sausage all flavorful. All this was accompanied by a pitcher of Abita amber, a beer which would be enjoyed again the next evening. Ambiance is very casual, and very busy. Despite the crowd, it wasn't super loud, and the tables were far enough apart to give a feeling of separate tables. The nice, but harried watress told me it had been nonstop since early afternoon, and she was ready to go home. Despite her wearyness, she was prompt and friendly. There's a small bar, with about 10 seats for small parties, tables of 2 and more than 4 seem to have the longest waits.
Powered by Qumana
2009-03-19 09:00:04 +0000 UTC